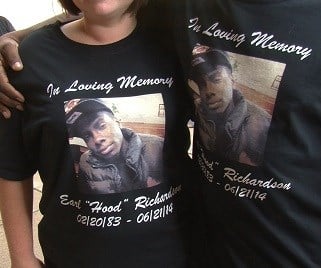 Posted By: Camila Orti
A Lincoln family is raising money to bury a murder victim.
Family and friends of Earl Richardson III gathered at the Indian Center in Lincoln Thursday night. They need help from the community to pay for funeral services.
Richardson, 31, was shot to death last Friday night at a friend's house near 27th and N streets. His father, Earl Richardson, says he wants his son to be properly honored.
"It's just a way to promote his memory and the good and kind person that he was," Richardson said.
Mother Lisa Fletcher says her son didn't have life insurance.
"It's ben a shock and a tragedy, you don't expect for your 31-year-old child to die so we weren't prepared for anything like this," Fletcher said.
Family members say Thursday's fundraiser raised around $900. There are a number of ways you can donate if you'd like to help:
Donate online at Earl Richardson III's gofundme.com account, donate to the Earl Richardson III Memorial Account at any Wells Fargo branch, or donate in person at several other fundraising events: A BBQ on Friday, June 27 at Pioneer's Park, 3 p.m.; a memorial car wash at the Hastings Wal-Mart; another BBQ Sunday, June 29 at Holmes Lake at noon.