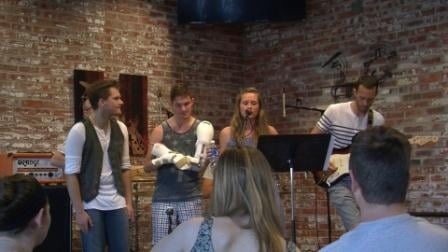 By: Lauren Fabrizi
lfabrizi@klkntv.com
A month after a serious boating accident sent Kent Seevers to the hospital in critical condition, the 26–year–old is back on stage performing with his friends.
"This is kind of a fun capstone expression of that, everyone getting together," Seevers said.

The accident happened at Branched Oak Lake on Memorial Day. Seevers suffered serious cuts to his chest and arms from falling off the boat and hitting the propeller. He's now in the healing process.

To keep his spirits lifted, his close friends put on a benefit concert for him Friday at Destinations coffee house in Lincoln, the spot where their band played together for the first time.

"Temporarily not going to be playing the guitar for quite some time, he still has his voice," Hannah Huston, one of Kent's close friends, said. "We've been saying for the longest time, 'We love Kent for his heart and his mind and not his talents, which are many.'"

"Why not celebrate Kent, the fact that we've still got him around," Rich Confer, another good friend, added. "And make a dent in the medical bills."

Both Seevers' arms may be in casts, but his passion for music was still able to shine through on stage as countless smiling faces watched him perform.

"It's a very extreme experience to go through a near death experience, and it's been just as extreme the reaction I've gotten from my friends and family," he said. "I could never hope for that kind of support."

Seevers said he'll continue to undergo therapy for a while. He's lost feeling in both of his hands. Doctors are optimistic he'll get most of it back.
If you'd like to help Seevers' family with medical expenses, click here.