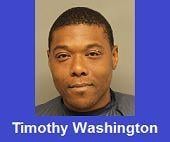 Posted By: Channel 8 Newsroom
Moments after committing the crime, a burglary suspect is arrested after Lincoln Police are in the right place at the right time.
Police say officers were in the area of NW 12th and Interstate 80 around 1 a.m. when a man tried to evade a traffic stop. As officers were setting up a perimeter, they were alerted to a home burglary that occurred just a few blocks away near NW 9th and Cornhusker Highway.
Neighbors told officers that 31-year-old Timothy Washington ran out of a house with items in his pockets and a laptop computer. Police caught up with him on NW 12th and arrested Washington after witnesses positively identified him. Police say he still had items from the home on him and had ditched the laptop nearby. Washington was lodged for burglary.
Police say they also nabbed the suspect who tried to escape the traffic stop, 26-year-old Travis Williams, who was arrested for driving under suspension and fleeing to avoid arrest.