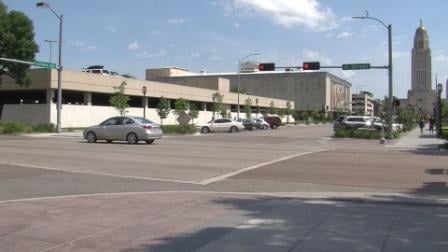 By: Lauren Fabrizi
lfabrizi@klkntv.com

Downtown Lincoln will be seeing more construction beginning Monday, this time at the intersection of Centennial Mall and O Street.

Pickleman's Gourmet Cafe is located at the corner. While the manager said he's not worried about business, Cole Brown, one of the delivery men, is concerned about the increase in traffic.

"I gotta get out of there and go fast," Brown said. "And O is usually the street we take."

Brown said he hopes his customers will be understanding.

"Sometimes they get kinda aggravated if it's too long."

Next door, the manager of Fuzzy's Taco Shop anticipates parking may be a problem, but isn't too concerned.

Construction will begin in the northbound lanes. Traffic in the southbound lanes will be restricted to one lane only. Then it will switch when construction in the northbound lanes is completed.
It's all part of the Centennial Mall construction project that began in 2012. Some sidewalks have already been rebuilt. Now, the streets and crosswalks will be removed and renovated, making the area more accessible for those with disabilities.

The new construction is being met with mixed reactions from those who travel downtown.

"It's not quite at the point where I'm gonna change my routes to where I go, or avoid places because of it," Michael Butler said.

"It seems to be kind of the main artery through downtown," Jordan Reynolds said. "But I feel like it might be easier if you went around the edges a little bit."

"Bike everywhere, kind of like it, kind of stems traffic," Alex Maycher said. "Get everywhere a little quicker."

All businesses in the area will remain open and accessible to customers. Drivers and pedestrians will be guided by barriers and detour signs. Construction is expected to be completed anywhere between 35 and 40 days, weather permitting.