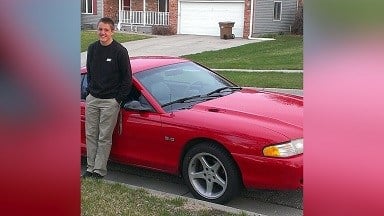 By: Jenn Hatcher
jhatcher@klkntv.com

Trey Anderson says he can't remember a July Fourth without his best friend, Blake Burklund.

"He enjoyed lighting off fireworks all day," explains Anderson. He adds, "It won't be the same without him but I know that he'll still be there with me in my heart and I'll always love him like a brother."

Just before midnight, last Wednesday, 16-year-old, Blake, crashed his car at 84th and Cornhusker (Highway 6).

He was pronounced dead at the scene, no official word from police on what caused the crash.

Another friend, Marco Gutierrez, visited the site of the crash, the next day, "just driving down 84th, knowing that he was probably driving down the same lane that I was for the last moments of his life, made me sick to my stomach."

Blake's friends say this past week; they've been closer than ever, grieving together.

"It's great being with everyone because we're all going through the same thing and it's keeping your mind off of it," explains AJ Wiley.

They describe Blake as a normal fun teenager, adding the news came as a shock.

"Just kind of thought I was dreaming for a while, it never really set in, it still hasn't," says Anderson.
Blake will be laid to rest Thursday.


Visitation:
Wednesday, July 2nd
5:00 - 8:00 pm
Lincoln Memorial
6800 S 14th St
Lincoln, NE

Funeral:
Thursday, July 3rd
11:00 am
St. Marks United Methodist Church
8550 Pioneers Blvd
Please wear Casual attire
Luncheon will follow
Graveside service following luncheon

In lieu of flowers a memorial fund has been setup:
Benefit for Blake Burklund
Union Bank & Trust
4243 Pioneer Woods Drive
PO Box 82535
Lincoln, NE 68501