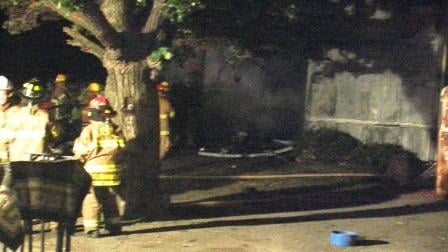 Posted by: Andrew Ward
8@klkntv.com
UPDATED INFO: The State Fire Marshal's office says the cause of the fire will be reported as undetermined.
------------------------------------------------------------------------------------------------------------------------------------

When Kathy Largent of Eagle looked out of her bedroom window early Wednesday morning, she saw flames bursting from her family's workshop.

"I woke up, heard a noise and the curtains were pretty bright," Largent said. "I looked out and thought someone had a bonfire. Then I realized that wasn't a bonfire. Sure enough, I went down and the building was on fire."

All that remains of the shop now is a pile of burnt rubble .

Many personal and expensive items couldn't be saved. Largent says her family lost three Harley Davidson motorcycles, a lawn mower they bought a month earlier and a collection of 3,500 music records.

Fire crews were called to the home off of 214th Street, near 1st and A streets in Eagle, a little after 12:30 a.m. Wednesday.

Elmwood, Southeast and Murdock all sent crews to help the Eagle fire department put out the flames. Officials said the extra help was called because the shop contained explosive items, such as gasoline tanks and fire crackers. Many water trucks surrounded the home in order to contain the fire.

Officials said no one was injured.

Largent said she is still shaken from the result of the flames. She said her family will wait until sunlight to decide what to do next.

"We're just going to have to wait and see what happens tomorrow."