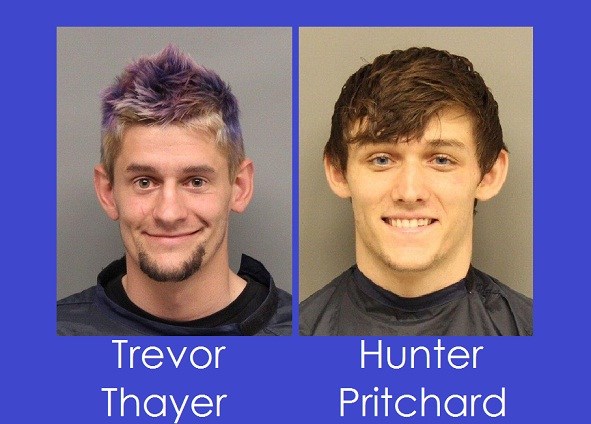 By: Hannah Paczkowski
hpaczkowski@klkntv.com
Pieces of books and papers are still scattered near 38th Street and Sheridan Blvd. Early Thursday morning, police arrested 18-year-old Hunter Pritchard and 24-year-old Trevor Thayer.

Police said the two vandalized a few mailboxes near 40th and High Streets. They also tore up and threw the mail, along with what was inside a community library.

"A woman had set up a community library, basically a box with the 'give a book, take a book' concept where people could come and get free books to better the community," Officer Katie Flood said.

The owner of the community library said her heart was broken.
"The books were strewn down the street and the sad part is, is that they were all torn up," Sue Barrett said.

Pritchard and Thayer were arrested on multiple counts of larceny and criminal mischief. Pritchard was also cited with resisting arrest and carrying a concealed weapon.
"There are bad people in the world, but there are more good people," Barrett said.
Take Tracy Murray for instance, Thursday she came by the library to donate more books after hearing the others were destroyed.

"Just couldn't really believe that somebody would do that to such a good community project thing," Murray said.

It was a surprise for Barrett when she came home from work.

"That's so sweet! I haven't even had a chance to look," she said.

Now, Barrett said she's ready to get the library back in action so more people can enjoy reading as much as she does.

"It's been a joy and I refuse to go down with the ship," she said.
Barrett's community library isn't the only one of its kind. There are several all around Lincoln. For more information, go to www.littlefreelibrary.com