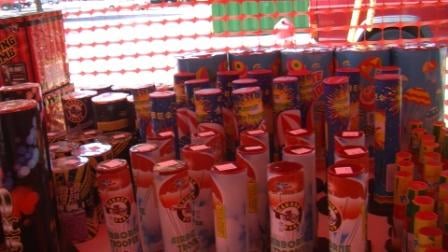 By: Lauren Fabrizi
lfabrizi@klkntv.com

People throughout the capital city headed out to fireworks stands Thursday as the third and fourth of July are the only days to legally purchase and shoot off fireworks in Lincoln.
Matt Spaulding, his mom and three sisters have set up a tent for the past eight years.

"It's a bonding experience to be honest with you," Spaulding said. "We've done this for so long, and at first it was just for the money, it's kind of a family tradition almost for our family."

Another tent is set up near 13th and Arapahoe Streets with about 200 fireworks, ranging from small novelties to $90 artillery shells.

Liz Herrick has family visiting from Oklahoma for the Fourth. Back home, they can't set off fireworks legally.

"It's always interesting to see how people react to things for the first time ever," Herrick said. "I'm excited to see how they react to being able to shoot off stuff. They're boys, they like to blow up things."
Several stands throughout the city have plenty of options to offer. But no matter which tent families head to, most little ones seem to have the same opinion.

"I just like the colors for Fourth of July because it seems happy and fun," Hannah Miller said.

"They make really loud, loud noises, it's really fun," Isaac Bourges added.

Stands will sell fireworks tomorrow. They can be set off until midnight.