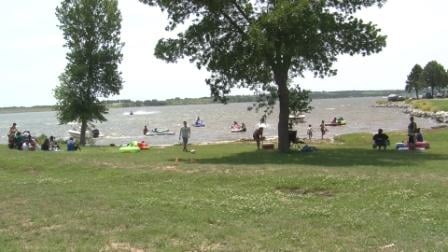 By: Lauren Fabrizi
lfabrizi@klkntv.com

From barbecuing and camping out to swimming and boating, Branched Oak Lake was filled with a number of people celebrating the Fourth of July Friday.

For Robert Throckmorton and his kids, the holiday isn't just about the fireworks, it's about spending time with family members they haven't seen in a while.

"It's tough to see everybody," Throckmorton said. "So it's good to set time away to celebrate the holiday and family time."

Relatives came from across the state to camp at Branched Oak Lake.

"I just like to hang out with my family," Throckmorton's son, Richard, said.

10-year-old Conner Peterson and his family also spent the day camping out. This year, he got an extra surprise.

"I get to light fireworks this year!" he said. "Normally light little ones, but this year I'm lighting big ones!"

A Chicago family spent the day relaxing by the water. They're roughing it for the first time with their family from Omaha.

"We've never done it before," Carinna Chavez said.
"Here with a lot of friends and family, couldn't get any better," her dad, Jose, added.

Branched Oak Lake officials said once parking lots are filled, they will not let people park on the grass. They said they have just as much security patrolling the area as they did Memorial Day Weekend, and said the only complaints they've gotten so far are people shooting off fireworks in prohibited areas.