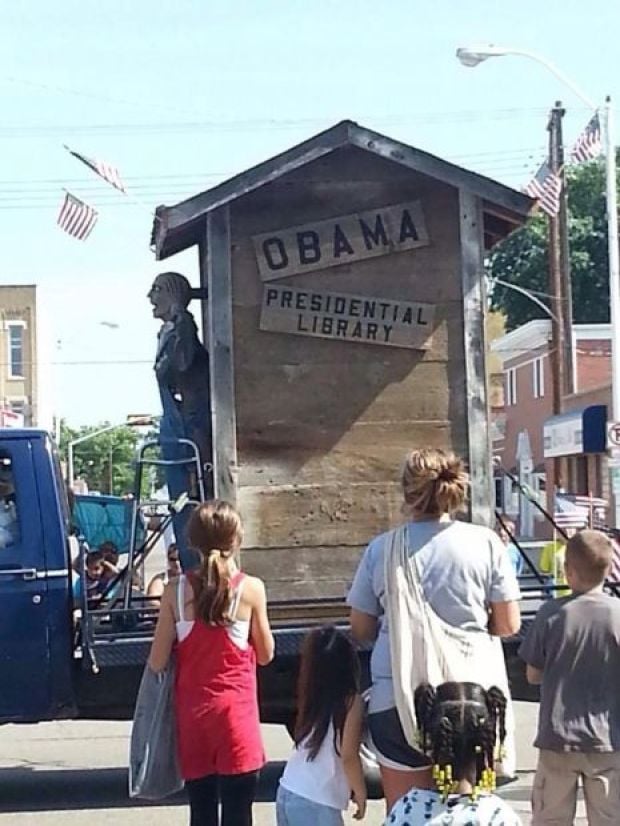 By: Lauren Fabrizi
lfabrizi@klkntv.com

A political float in Norfolk's holiday parade is sparking controversy throughout the state.

The float, which displays a zombie–like figure in a suit and overalls, stands outside of an outhouse with a walker. It's labeled "Obama Presidential Library."

"This was a gathering of Norfolk citizens to celebrate the Fourth of July," Dan Marvin, the executive director of the Nebraska Democratic Party, said. "Not a forum to make political statements right in people's faces like that."

The Nebraska Democratic Party didn't take it lightly. The executive director said he's seen plenty of parade floats over the years, but never one that aimed to blatantly disrespect a president – Democrat or Republican.

That's pretty radically charged to be portraying the President of the United States as somebody that's got to go back and live in a sharecropper's cabin," Marvin said.

Hundreds have taken to social media to voice their opinions. Scott Minks commented on our Facebook page:
"You take a black man, put him in overalls in front of a "shack" with an agape look on this face. That harkens back to the time of slavery... If they had put Obama on a modern day toilet wearing a suit with the same words it would not be causing a stir."

Parade organizers with the local Old Fellows organization said the mannequin is not supposed to represent President Obama. Rick Konopasek, one of the committee members, said it depicts a farmer who's in disbelief of the government's policies.

"The entry was clearly stated on the entry form as political satire," Konopasek said in a statement. "The Norfolk Odd Fellows does not agree or disagree with the content, the creator of the float will have to comment on the intent."

Nebraska Democrats plan to contact local and state leaders this week with one hope.

"The elected leadership will do the responsible thing and make sure it doesn't happen again," Marvin said.

Those with the parade committee said the float was the most popular one in the event and received an honorable mention award. However, they indicated they may change the rules in light of this year's controversy.