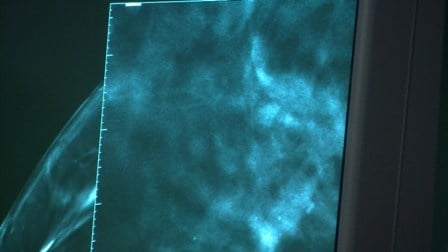 By: Hannah Paczkowski
hpaczkowski@klkntv.com
For 61-year-old Verna Curry, having breast cancer was always a possibility, her mother is a survivor.
"Am I getting mammograms when I need to be? Am I doing all the right things?" she said.

Verna said she was receiving annual mammograms, but about six months ago, doctors received a report saying they needed to monitor something, but it wasn't serious. She decided to try something at Bryan's Pine Lake campus that she never has before, 3D mammography.

"Because of the technology, they were able to find through looking at various pictures and slices that I had an issue that nobody was aware of before," Verna said.

Verna was diagnosed with a pre-cancerous condition. She's not the only one who's benefited from the technology. Dr. Jeff Matthis is a radiologist with Bryan. He said they caught at least a dozen cancers since March.

"If something's hiding in there, we'll see it and we won't have to take extra mammographic views to do that," he said.
Before this technology, radiologists would look at the projections of a 2D image from top to bottom and side to side. Now, Matthis said he can page through the whole breast as if it's physically right in front of him. This can be beneficial for patients like Verna, who said she has dense breast tissue.

Verna is having a lumpectomy later this week. She said she's hopeful that she'll be 100 percent cancer free.

"I've had a wonderful life. If this is the worst health issue I have, I'm pretty fortunate," she said.

Bryan's Pine Lake Campus is the only facility in Lincoln with 3D mammography. Doctors said some insurance companies cover it, and Medicare and Medicaid do as well. Doctors recommend women over the age of 40 should start having mammograms annually, maybe even sooner if breast cancer runs in their families.