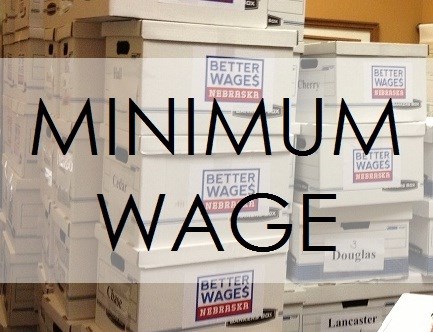 By: Jenn Schanz
jschanz@klkntv.com
Is $7.25 an hour a livable wage?
Thousands say no. Thursday, Nebraskans For Better Wages, a group in support of a state minimum wage hike, got well over the required number of signatures to get the issue on the general election ballot.
The measure proposes a gradual wage increase from $7.25 up to $9.00 by 2016.

"For every dollar than we increase the state minimum wage, that puts an additional $2,800 dollars per family per year right back into the local economy," said Sen. Danielle Conrad of Lincoln back in June. She's one of the lawmakers pushing for the increase.

Still, many say a minimum wage hike would hurt small businesses, and lead to unemployment.
I spoke with Doug Kagan over the phone. He's president of Nebraska Taxpayers For Freedom, a new group that's fighting the suggested increase.

"When you raise the minimum wage, that takes investment capital away from the businesses that they otherwise would use to train and educate entry level workers," he says.

Supporters of a minimum wage increase argue it would address poverty. Kagan says that's a stretch, and argues a hike would primarily hurt young workers.

"Teenagers, they may be making only the minimum wage but they come from families or live in families who are not poverty stricken," he says.

Kagan also feels the hike would force employers to make layoffs.
His suggestion? Allow the free market to determine wages. He hopes eventually to get rid of a state minimum wage all together.
Come Nov. 4th, voters will get to decide.

So far, 21 states have minimum wages above the federal minimum wage, including the bordering states of Colorado and Missouri.