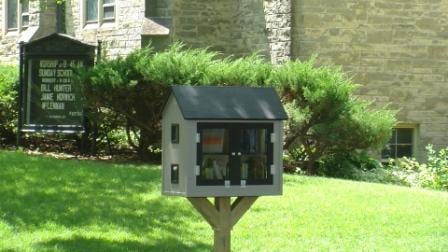 By: Kayla Bremer
kbremer@klkntv.com

A south central Lincoln neighborhood is fighting the city to keep their community library in place but officials say it must go.
The residents of the Indian Village Neighborhood put up the little library just two weeks ago but are now being told it has to be moved.

George Finley lives across the street from where it sits. He spent the winter building the "take one, leave one" book stand that's placed near Southminister United Methodist Church but is technically on public right-of-way.

"I've seen little ones that come over here and get a book and they've actually just sat down in the grass and started reading," Finley said.

One week ago, the church received a letter saying the little library must be removed from the public right-of-way by July 10th, or they could be cited and fined up to $500.

"Essentially (it) has been evicted and it's only been up about two weeks," Barbara Arendt said. "We're down, we're sad, we're a little confused."

The city says the little library is an obstruction and that the area between the curb and the sidewalk is only to be used for city infrastructure like light poles, snow removal and mailboxes for a few examples. But residents say the little library is a focal point for the neighborhood and acts as a "water cooler" type concept and has brought kids and adults together.

"I do not understand why there can't be an exception to this ordinance because this is doing nobody any harm and doing the whole neighborhood a great deal of good," Finley said.

City officials say they support the little libraries and this one is allowed to stay up as long as it's moved to private property.

The neighborhood association has until early next week to come up with a plan for the little library and then city officials will give them an extra week or two to actually move it.
Residents say they are in need of more children's books. They can be dropped off at the little free library or taken to the church.