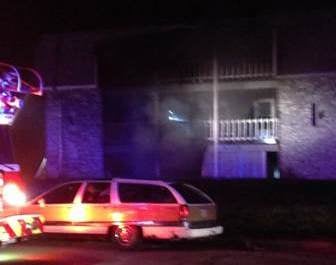 Posted by: Kayla Bremer & Jenn Hatcher
8@klkntv.com

Lincoln Fire Investigator, Ken Hilger says an apartment fire, that sent multiple people to the hospital, was started in a microwave in a lower level apartment. He says they still don't know what sparked the flames though. The building, near 20th and J, was fully engulfed Wednesday morning and residents were trapped inside.

"When they arrived, as soon as they threw the ladders up there, there were occupants that were already hanging out the windows," Battalion Chief Derald Murrell said.

The fire started around 3:30 Wednesday morning.

A Lincoln Police officer driving through the area noticed a man outside of the building in distress, then saw the fire.

"As the LPD officer first arrived, he said it was a glow and in just a minute or so later, it flared up and blew out the windows of that garden level apartment," Murrell said.

Officers knocked on doors and threw rocks at windows to alert residents before fire and rescue crews arrived.

Officials say the 2-alarm fire quickly spread to the second and third floors, blocking the exits for those inside.

Lincoln Fire and Rescue used ladders to go into the window of each room of every apartment, entering through the window then searching for victims.

Five were rescued from the burning building. Four of them were taken to the hospital, one with life-threatening injuries.

Two firefighters also suffered minor injuries. One was hurt while on the ladder after a desperate resident climbed over him injuring his back.

"we're very fortunate our firefighters didn't sustain more injuries and also the occupants are in as good of shape as they really are. Very fortunate."

Fire officials estimate between structure and content, there's about $200,000 dollars worth of damage. The do not believe the building to be a total loss.

The building is currently inhabitable. The Red Cross is working with everyone who was displaced.
_______________________________________________________________________________



By: Andrew Ward
award@klkntv.com

Fire and rescue crews are on the scene of two fires in central Lincoln.

Crews were called to an apartment near 20th and J streets a little after 3:30 a.m. Wednesday.

Fire officials say large flames busted from the building as well. Firefighters immediately evacuated residents out of the building. The flames and smoke made this tricky, forcing crews to call a second alarm as residents attempted to find a way out of the building on their own. Some of them hanging out of windows when crews arrived.

"There main channel and avenue to evacuate was cut off by the flames that appeared to move up from the front of the structure," says Capt. Brad Thavenet of Lincoln Fire and Rescue. "They had to be laddered out the windows on the sides and rear of the building."

Officials say four patients were taken to St. Elizabeth's Regional Medical Center with minor smoke inhalation. No word has been released on their conditions.

The investigation to determine the cause of the fire continues.

At the same time, fire and rescue crews were also called to a fire at home on Grassridge Road, just west of 27th and Hwy 2.

Crews were called there a little before 4 a.m., no word on any damage there.