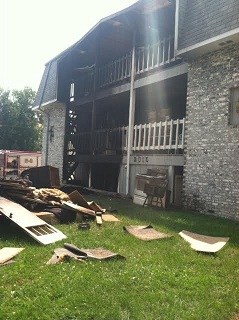 By: Jenn Schanz
jschanz@klkntv.com
Jordan Galaway has a lot of memories at this apartment near 20th and J. His uncle has lived here for years, he knows almost everyone in the building, and even lived here himself at one point.

When he heard it was on fire Wednesday morning, his heart sank. Luckily, his uncle wasn't home.

"They texted me 'fire, your uncle's building is on fire.' And I'm like oh man, I gotta... I just jump up and go," says Galaway.

He says surveying what's left of his old home, is overwhelming.

"It's kind of devastating I guess, because I've just got so much history here, you know."

Fire crews got to the scene just before 3:45 a.m., but they say by the time they did, flames were already pouring out of the side of the balcony.

At this point, residents are just trying to salvage what's left of their belongings. The inside units are charred and barely recognizable; neighbors say the whole thing was surreal.

"I looked out the window and there was flames like 30, 40 feet in the air," says Adam Hunt, who lives across the street.

"Well I heard the fire trucks this morning about 3:30. It kind of startled me, so I thought what the heck is going on," says neighbor Jon Jensen.

One neighbor says she could hear people screaming for help. Four were taken to the hospital, one in critical condition.