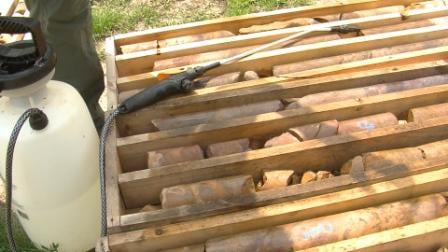 By: Lauren Fabrizi
lfabrizi@klkntv.com

A southeast Nebraska town is one step closer to building the first niobium mine in the country.

According to a new finding released Wednesday, a promising amount of the mineral, which is used to harden steel, has been found hundreds of feet below the ground near Elk Creek.

"We feel pretty good about our chances to deliver a project here that's economic and competitive with other producers," Scott Honan of NioCorp said.

Drilling in that area has been an ongoing project for decades. But those with NioCorp, a Canadian firm in charge of the project, said a significant amount of progress is finally being made.
So far, more than 100 million tons of rock have been drilled. Lab results show anywhere from 14 to 50 pounds of niobium per ton of rock have been found in those rocks, depending on the grade. Officials said that amount compares favorably to niobium mines in Canada and Brazil.

Greg Krueger owns land that will eventually be drilled.

"It's going to the next step, so we're optimistic," Krueger said. "The buyout would make my wife happy, wouldn't have to work so hard from hear on out hopefully."

The United States imports all of its niobium. Common uses are for building bridges, buildings and car parts.

NioCorp has already drilled three holes near Elk Creek. It plans to drill at least 11. Officials said the drilling should go until August. After that, a feasibility study will be conducted.