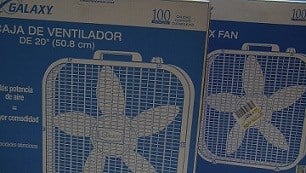 By: Brittany Paris
bparis@klkntv.com
We felt the head earlier this week, near 100 degrees on Sunday. That can be pretty dangerous for some people.

When temperatures go up, most of us head inside to cool down. But what about those who can't afford air conditioning?

"It can be a life and death issue for elderly people, people with young children," Capt. Jamie Pennington, Salvation Army, said.

Pennington says the Salvation Army donates fans every year so families can beat the heat. They've already given away about 200 this summer.

"It's certainly a more economical way for clients that can't afford air conditioning in their house," Pennington said.

But now, Westlake Ace Hardware is teaming up with the Salvation Army to bring even more fans to the less fortunate.

From July 19 through August 3, both Westlake Hardware stores in Lincoln will collect donations for the cause.

They're located at 2600 S 48th St #19a and 4545 Vine St.

They'll accept as little as one dollar and a $20 donation will buy a fan for a low-income senior, family with children or adults with disabilities.

"You imagine how uncomfortable we get when you walk into a hot car, for example, after your car has been parked all day and try and live in that condition is not healthy," Pennington said.

And when the heat is up, LES has some tips to keep energy use and costs down.

They say when you're at home, set the thermostat to now lower than 78 degrees. You can reduce cooling costs 3 to 5 percent that way.

Also, keep shades and drapes closed, especially on sunny sides of your home.

And, of course, use fans when you're in a room. They help keep the temperature comfortable, thus requiring less air conditioning.

In addition to donating money at Westlake, you can also drop a fan off at the Salvation Army at 2625 Potter St, Lincoln, NE 68503. They do ask for new or gently used fans to prevent fire hazards.