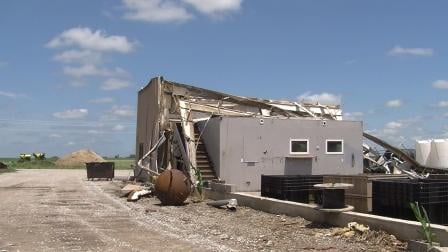 By: Lauren Fabrizi
lfabrizi@klkntv.com

Every day Todd Ricenbaw steps out onto his property, he's reminded of the EF-3 tornado that took out a number of homes in and around Beaver Crossing.

"Crazy to walk out and see everything gone in a few seconds," Ricenbaw said.

He's lived there for 20 years.

"Never seen anything like this before," he said.

His home and several of his farm buildings were hit.

Then, just three weeks later, Mother Nature struck again. A hail storm destroyed his crops.

"Double whammy," Ricenbaw recalled. "We got hit really hard, we had to replant part of our farm."

Since then, he's patched up his home. But his farm buildings are a work in progress. Ricenbaw said his insurance doesn't cover everything.

But farmers like Ricenbaw are in luck thanks to the Nebraska Farm Bureau Foundation for Agriculture. It set up a tornado relief fund Thursday for farmers who qualify.

"I think it's in the best interest of the bureau and all of Nebraska to get these farmers back on their feet," Deanna Karmazin of the bureau said. "And produce that food we so desperately need."

Farmers who qualify will be given assistance for things like food, clothing, medical supplies and relocation costs. They can apply for aid, family or friends can nominate them or people can donate directly to the bureau.

Ricenbaw said it's something he might consider. He said he's taking everything one step at a time.

"Everything's starting to come together," he said. "But we still got a ways to go."

Karmazin said once the Nebraska Farm Bureau Foundation for Agriculture has an adequate amount of funds, it will start helping farmers. It will accept applications through December.
Applications or nomination forms can be obtained at www.nefb.org or by calling (402) 421-4400.
To donate, send donations to:
NFB-Foundation for Agriculture
ATNN: Tornado Relief Fund
P.O. Box 80299
Lincoln, NE, 68501
Or visit www.nefb.org and click the "donate" button.