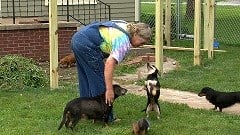 By: Jenn Schanz
jschanz@klkntv.com
Things around the Chapman house sound the way they did before the storm.
Carla Chapman runs a Dachshund rescue in Beaver Crossing. She was caring for nearly 30 dogs on Mother's Day, when an EF-3 tornado damaged nearly every home in town. Somehow, none of them were hurt.
Now, two months later, she's starting to put things back in place.

"It's slow. It's progressive, but it's very, very slow," says Chapman.

The storm did serious damage to her house. She had to put up a new fence to give her dogs an area to run.

"Little things, like putting this fence up...it was progress, it was something," she says.

Compared to the night of the storm, town leaders say Beaver looks like a whole new place.

"If anybody was here after the storm...it was, you know, the streets were a mess, yards were covered in trees," says Doug Welch, Maintenance Supervisor for Beaver Crossing.
One storefront that was nearly toppled over the night of the storm is now gone, ready to be rebuilt. And dozens of homes in town are being resided and getting new roofs.

A large part of the clean–up has been done by volunteers.

"The volunteers have been phenomenal. I mean, just, I thank them so much .Overwhelming thanks," Welch says.

For some, the damage was too much to come back from.

"The sad thing is the loss of families. The ones that can't afford to build, or the renters. We're losing a lot of families unfortunately. But, it'll come back. It'll bounce back," Chapman says.

Until then, residents are being patient.

****Volunteers are still needed and always welcome, but town officials ask that groups call before showing up: 402-532-3925