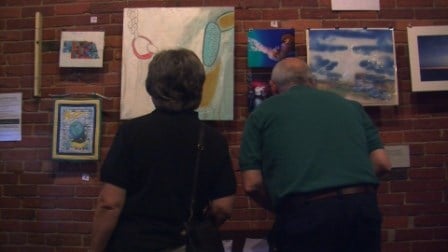 By: Lauren Fabrizi
lfabrizi@klkntv.com
Step inside Doc's Place and you'll find it's not your typical bar. Since it opened about 15 years ago, the place prides itself in the pictures and paintings up for sale that line the walls.

But Friday night, that art was sold for a special reason: to help those affected by the Pilger tornadoes.

"If something like that happened to us, we would want help," owner Troy Falk said. "So we want to help out."

Troy Falk has owned the bar since it opened, his sister, Melanie, is an artist and they both have friends who've experienced the destruction first hand. So, having a silent art auction at Doc's Place seemed like the perfect idea.

About 40 artists donated their artwork. Elisa Baker was one of them.

"I just really loved the idea," she said. "I love the idea of helping people, especially using your artwork to do so."

80 pieces of art, ranging from $20 to $900 in value were bid on. Local restaurants also donated baskets and gift cards.

From art lovers to those just coming out to support their artist friends, there was a little something for everyone. And a lot more satisfaction knowing the money raised would help those who need it.

"Very unique, it's a good way to bring in money at the same time," Nikki Kelso said.

"Help support our community and also help support surrounding areas for Nebraska," Travis Kelso added.

About 175 people came out to the fundraiser. Preliminary numbers show about $3,000 was raised.