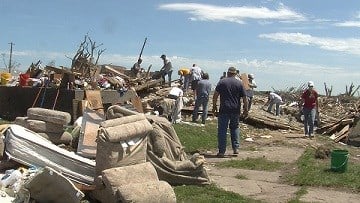 By: Channel 8 Newsroom
8@klkntv.com
About a month after those EF-4 tornadoes ripped through Pilger, more and more businesses are standing behind their commitment to rebuild.
Midwest Bank says it's staying put. The bank's president says that while the bank's physical presence in the community has been temporarily interrupted, its support for Pilger residents has not changed.

The Farmer's Co-Op in Pilger has also said they'll rebuild.

"Just one step at a time. It'll get there and you know, our adjuster like he said, it's slow, but then all of a sudden one day you look and you're like we've got a lot done. So it's coming along," Aaron Becker, President, said.
The grain elevator is Pilger's largest employer. Blue prints for the new Co-Op are already drawn, new grain bins are on the way and Becker hopes they'll be open in time for harvest.