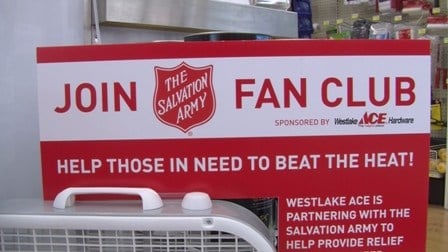 By: Hannah Paczkowski
hpaczkowski@klkntv.com
Cool air is a luxury many people go without during the summer. With temperatures reaching into the triple digits Monday, a fan becomes a necessity.
"I don't like to run the air conditioner because it really runs my bill up and I live on very little," Doris Ravins said.
Ravins isn't the only one trying to go without air conditioning. Westlake Ace Hardware stores are teaming up with the Salvation Army to give away fans to people who can't afford a bigger electricity bill or for those who don't have air conditioning at all.
"The heat makes people very vulnerable," general manager Alan Kulhanek said.
The Salvation Army said they'll give away one fan to anyone who doesn't have one. Both Westlake Ace Hardware locations are taking donations of any size. $5 pays for one blade, and $20 will pay for a whole fan.
"Even if it's not air conditioning, it's still moving air," Kulhanek said.

That way more people, like Ravins, will be able to live comfortable in their home during these sizzling temperatures.

"I think it's wonderful that they try to help the people that don't have much," Ravins said.
Anyone who is in need of a fan can go to the Salvation Army. To donate, you can go to both Westlake Ace Hardware locations until Sunday.