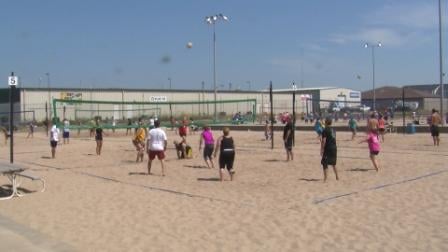 By: Kayla Bremer
kbremer@klkntv.com

A sand volleyball tournament will take place to celebrate the life of a Lincoln man who was beaten to death last summer.

Last August, hundreds of friends and family members of 27–year–old Dave Mueller did what he loved most, played sand volleyball at Spike's Beach Bar and Grille.

It was a memorial tournament to honor and remember Mueller who died after he was randomly beaten with a baseball bat by a gang.

"He loved to play volleyball," friend Jessica Schmale said. "We all got together and played volleyball together so we thought this would be the best way to earn money for Dave."

After a huge turnout of 32 teams, organizers decided they would do it again this year and every year after.

This year's tournament is August 16th. The money raised will go to the Dig It For Dave Foundation which helps his family and to United Way where Mueller worked.

"This is how he would want his life celebrated, out here, everybody having fun, showing a lot of love for each other," Elissa Biggerstaff said at last year's event.

If you're interested in playing, it's $120 for a team of six. Registration forms can be found on the "Dig It For Dave" Facebook page and they need to be turned into Spike's by August 8th.

"It's for us to get together for Dave," Schmale said. "We just miss him a lot."

Check-in for the tournament starts at 8:30 a.m. and the games start at 9:00 a.m. on August 16th.

If you don't want to play but still want to make a donation, you can give donations on site that day or send a check to Dig It For Dave, 5145 S 80th St. Lincoln, NE, 68516.