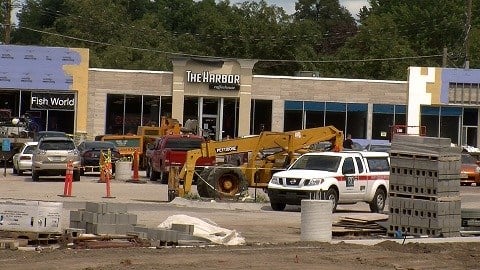 By: Jenn Schanz
jschanz@klkntv.com
The Piedmont Shops near Cotner and A have been around since the mid 50's.
After years of wear and tear, they're getting a major face lift. It's costing around $5.4 million and is expected to boost the center's value from just under $2 million up to $6 million.
Construction is well under way, and despite a lot of orange cones, pre-existing businesses are remaining open during the renovation.

Jay Haes co–owns Ole's Boots and Shoe Repair in Piedmont Shopping Center. He says prior to construction, the Piedmont Shops had seen better days.

"Before, it was looking very drab. Signage was terrible," he says.

Today, he's optimistic. He says even his customers are looking forward to the new center.

"They say aren't you excited about it? and I say yes we are!"

And they've got a lot to look forward to; the renovated shopping center will have new facades, extended sidewalks, an outdoor patio, antique lighting, and an outdoor fireplace, just to name a few things.

I spoke to Steve Glenn, the property owner over the phone. With a few months to go before the grand opening, he's already seen a huge change.

"When we purchased the center a year ago it was less than half full and when we open and have our grand opening, it should be over 80 percent full. So it's a whole new day for Piedmont and we think a great time for the city of Lincoln."
The grand opening for the Piedmont Shopping Center is expected to be in mid September.