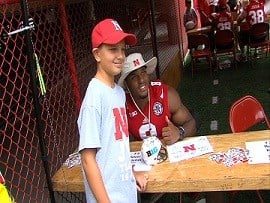 By: Brittany Paris
bparis@klkntv.com
Husker fans are gearing up for an action-packed football season.

They got an early start Friday afternoon at Fan Day.

It was a sea of red outside Memorial Stadium. Thousands of fans lined up, from the front.

"We got there about 9:30. We came from McCook, Nebraska," Caleb Suda said.

To the back.

"The line gets longer every year. This is the longest I've stood in line," one fan said.

They were young and old, armed with helmets, posters and footballs for the 2014 Husker Football Team to sign.

"You have to wait so long to get in there. But when you get in, you just have to take a mad dash to wherever you want to go," Husker fan Kole Schenemin said.

Fan day means something different to everyone.

"Meeting all the new freshmen that are coming here next year to play for Nebraska," Coy Terry, McCook, said.

One fan, wearing a fro, is excited to meet Kenny Bell.

Little Kenny Bell left with a signed shirt from his favorite wide receiver.

77-year-old Husker fan, Larry Kaiser, has been bringing his great-grandson to Fan Day for five years.

"Getting Kenny Bell and Ameer Abdula's autograph," Cole Sharping, the great-grandson, said of who he's excited to meet.

Kaiser has followed the team since the mid-60s.

"I think this is my 35th year for season tickets, so I've been here a few days," he said.

Also in attendance? A startup company from California. They debuted what they call the ideal tailgating accessory, My Wingman. You can get one at basementdadsports.com.

"We are launching today because Nebraska, they have the best fans in the country," Ken Stcyr, Basement Dad Sports, said.

The fans agree.

Around 10,000 left with the team's and, let's not forget Bo Pelini's, autographs.

The Huskers first game is August 30. They take on Florida Atlantic.