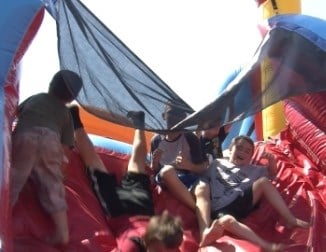 By: Lauren Fabrizi
lfabrizi@klkntv.com
Hundreds packed Dimery Street in Beaver Crossing Saturday for the town's annual Beaver Daze festival, despite the heavy damaged caused by May's EF-3 tornado.

"It's just a fun thing that everyone can do," 11-year-old Jasmyne Terrell said.

"It's really awesome!" Christian Chesnut chimed in.

"It's just fun, really fun! Evan Pankoke said.

It was a change of scenery this year. The event was held downtown, since the park was destroyed by the storm.

"This year, we kind of had to make new games, new ideas," Ryon Richardson said.

But the kids didn't seem to mind. From a bouncy house and mini golf to tasty treats, there was plenty to enjoy.

And of course, the town made sure to have its annual rib-eating contest.

Bruce Pankoke took home first place in 2010 and third last year. He said the tornado may have taken away his trophies, but he said he still has bragging rights. This year, he was pretty confident.

"We're pretty much a shoe in," Pankoke said. "My wife whipped up a homemade recipe this year. It's a guarantee."

Organizers said the town has come a long way since May. They said about only 10 families are still displaced. Many that had extensive damage to their homes have moved out of town to rebuild.

"Let people get back together in town, have a great time with each other," organizer Ann Collingham said. "Just kind of let loose. Forget about everything else going on outside."

The Beaver Crossing Chamber of Commerce puts on the event every year. Once donations are totaled, a portion of that money will be given back to the town.