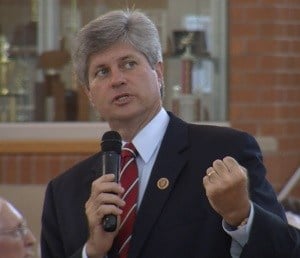 By: Bill Schammert
bschammert@klkntv.com
Tempers flared at a town hall meeting at Lincoln Southwest on Monday night. Congressman Jeff Fortenberry hosted the event as Congress takes a five week recess from Washington.
The decibels started to rise as one woman repeatedly asked the congressman why the U.S. continues to give aid to Israel.
"We're not going to start yelling. Stop!" he said as he raised his voice. "We are going to conduct this meeting in an orderly fashion."
Most of the more than 150 in attendance then applauded the congressman.
While Rep. Fortenberry says the violence and death toll in Gaza is heartbreaking, he told the woman, the U.S. needs to stand behind its ally.
"Israel and the United States have very strong defense cooperative relationships," he said. "We do supply them defense aid and we do that for their protection in a very hostile neighborhood."
The congressman also says he talked to Lincoln's Yezidi community following yesterday's protest at the Governor's Mansion. He says we need to raise more awareness about what the militant group ISIS is doing to communities and cities in Iraq - comparing what's happening to genocide.
Rep. Fortenberry co-sponsored a bill that passed through the House on Friday calling for more awareness and humanitarian aid to the area.
Along with several other topics, the congressman also discussed the budget, immigration and renewable energy.