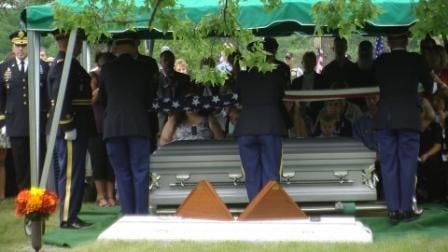 By: Lauren Fabrizi
lfabrizi@klkntv.com

Heavy hearts filled Lincoln Memorial Friday morning as Staff Sgt. Benjamin Prange of Hickman was laid to rest.
"Ben was a good person, and I know his wife and kids are really going to miss him," Dionne Gorgi of the Nebraska Patriot Guard Riders said. "He was a hero to everybody."

Prange and another soldier were killed by a roadside bomb in Afghanistan two weeks ago. This was Prange's third tour overseas. He was first deployed in 2008.

Since then, Prange has earned a number of military awards, leaving his loved ones with a lot to proud of. And it was that pride that was displayed through somber exteriors, as family, friends and the military community said goodbye.

"It's very emotional for me to stand here and watch one of my brothers be laid to rest for the last time," fellow soldier Mike Brown said. "It makes me feel good, though, to know that he's at peace now."

"We respect him, certainly his service that he's provided," Brigadier Gen. Rick Dahlman of the Nebraska Army National Guard said.

That support extended throughout the city. American flags lined the streets from Southwood Lutheran Church to Lincoln Memorial. Next to those flags were people standing with their hands over their hearts, paying respect to the fallen soldier.

"As a community, we're here for them," Gorji said. "We'll stand by them not only today, but in the future any time they need it."

Prange leaves behind his wife, Liz, and two sons, Corbin and Dillon. A memorial fund has been set up for the family at First State Bank Nebraska.