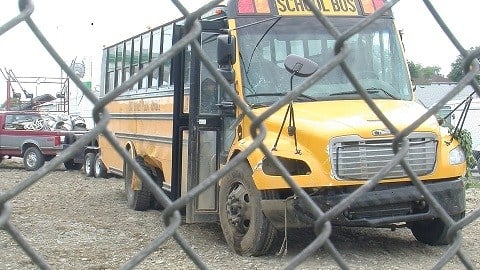 By: Megan Conway
mconway@klkntv.com
A man killed in a crash with a school bus may have survived if he had only worn a seat–belt, according to the Sheriff. The crash was between an East Butler Public Schools bus and a pickup.
"We've had a lot of accidents, not necessarily this year, but that seat belts would've been the deciding factor between life and death," says Sheriff Kevin Stukenholtz of Saunders County.

Just three days into the new school year, a terrifying accident leaves parents and administrators on edge.
"The parents were all contacted and are with their children at the hospital facilities," says Sam Stecher, Superintendent of East Butler Public Schools.

It happened around 7:30 a.m., northwest of Valparaiso. Deputies say a pickup and a school bus collided at an unmarked intersection. Eleven elementary students were on board the East Butler bus. Three people were in the pickup, which lost control and rolled into the ditch. Two out of those three Schuyler residents were ejected.

A passenger in the pickup told Channel 8 the school bus hit the side of the pickup as it entered the intersection. Authorities are still determining who was at fault.

The Saunders Country sheriff says no seat belts were used in the truck. If they would've been, he says the passengers would likely be in much better shape.

"Even though the pickup rolled, the cab was still in fairly good condition," says Sheriff Stukenholtz.

The truck driver was pronounced dead at Bryan West. All of the students were taken to the hospital for minor injuries. Everyone from the bus is expected to be O.K.

"We are very fortunate we have such proficient first responders, a number of which are actually members of our community or members of our staff," says Stecher.

In cases like this, where the intersection doesn't have a stoplight or stop sign. The Sheriff says, be extra careful.

"This time of year there are a lot of crops in the rural areas, so anytime you're approaching an unmarked intersection, both drivers have to be extra cautious," says Sheriff Stukenholtz.

The cause of the crash is still under investigation. So far, no citations have been issued.