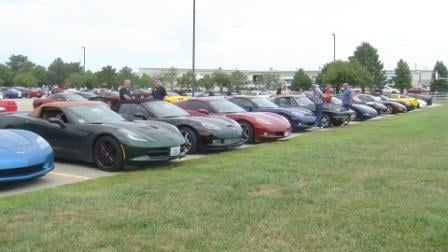 By: Kayla Bremer
kbremer@klkntv.com

Lincoln streets were flooded with more than 400 Corvettes Monday and Tuesday. It's all because the city is a pit stop for the 2014 National Corvette Caravan.
"We stopped in Billings, we stopped in Casper, we stopped in Cheyenne, we stopped in the North Platte area and now we're here," Robin Forrer said.

Her and her husband left their home in Portland, Oregon and started the journey across the country.

That's the same story for hundreds of others in the caravan. The final destination? Bowling Green, KY for the 20th Anniversary Celebration of the National Corvette Museum.

"The Corvette speaks for itself," Forrer said. "Corvette owners have a camaraderie amongst ourselves. You see a corvette, you wave. It's the wave."

The hundreds of Corvettes rolled into Lincoln Monday night. Then Tuesday morning, made their way over to the museum at Speedway Motors where they could see versions of the sports car from every decade, dating back to the first model in 1953.

"This is the largest Corvette group that's come through but it's a lot of fun to see all the different stuff...the cars, talk to the people," museum owner Carson Smith said.

The caravan left Lincoln Tuesday afternoon with its next stop in Columbia, MO.

The 6–day trip will cover 2,600 miles and wraps up on Wednesday.

"It's awesome," Mike Abel said. "It's really great just being on a trip with this many Corvettes and this many Corvette owners is really cool."

Over 6,000 Corvettes from across the nation are expected to make the journey to Kentucky to celebrate the 20th anniversary.