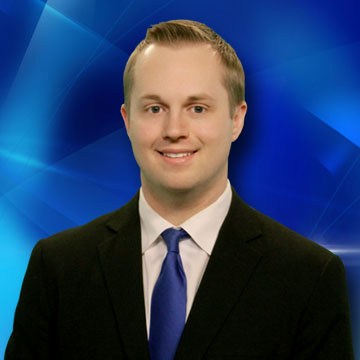 Jason is a Nebraska native and calls Omaha his hometown. He has always had a passion for weather since he was a kid, especially for severe weather.
He attended the University of Nebraska-Lincoln and graduated with a bachelor's degree in meteorology-climatology. While in school, he was a weather intern at KCAU-TV in Sioux City, IA and Channel 8 KLKN-TV. He was an active participant at AMS student events, as well as the UNL storm chase team. Jason has actually seen one-half dozen tornadoes.
Before becoming a Channel 8 Eyewitness News Weather Expert, he was a meteorologist and news co-anchor for KODE-TV in Joplin MO. "I am excited to be back home providing the weather for Lincoln", says Jason and he adds "Being able to understand and forecast the diverse weather patterns we see in Nebraska and explaining it to people is something I enjoy doing". He also provides long range, monthly and seasonal weather forecasts to farmers in Nebraska and Iowa. You can watch Jason's forecasts weekends on Channel 8 Eyewitness News.
Outside of weather he loves to spend time with his friends and family. He enjoys exercising, bowling, golf, snowboarding, traveling and of course watching Cornhusker football. He is currently working on this master's degree in Applied Meteorology.
jtaylor@klkntv.com
Facebook-Jason Taylor Channel 8 Eyewitness News
Twitter-JasonTaylorKLKN