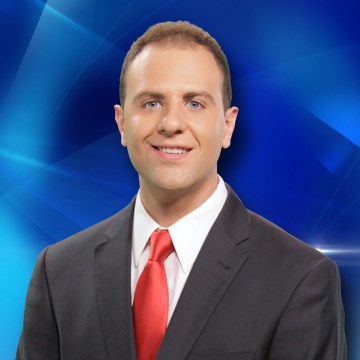 Phil grew up in the Philadelphia suburb of Media, PA. Ever since he was two years old, the only job he wanted to do is be a sports reporter. Well, to be fair, he really wanted to be a professional athlete, but he realized he wasn't going to play in the pros so he stayed with the two things he enjoys; his love for sports and his love for storytelling.
Phil graduated magna cum laude from the University of Missouri's School of Journalism. A collegiate athlete at Mizzou, Phil played lacrosse and was named All-Conference three times and was a 2016 MCLA Academic All-American. He also played the tuba for three years in Missouri's marching band. Before moving to Lincoln, Phil worked as a sports reporter/anchor for KOMU-TV in Columbia, MO. "I love the opportunity to get to tell the stories of not just the athletes, but the fans, the cheerleaders and others who are part of the event," Phil says about his duties as a sports reporter for Channel 8 Eyewitness News Sports. He continues, "Sports is more than just wins and losses, but a culture and identity for a region."
Although Phil says that he enjoys cheering for Mizzou teams, he says that Nebraska will be his adopted Big Ten team. Being new to the region, Phil's interested in checking out all things Nebraska has to offer, so if you have any ideas of places to visit or have any story ideas, feel free to send him an email.
pbergman@klkntv.com
Facebook-Phil Bergman-Channel 8 Eyewitness News
Twitter-PhilBergmanTV