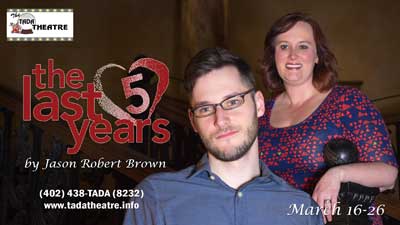 A great show by Jason Robert Brown Funny, honest and intimate, with an exuberantly romantic score, this award winning musical is an emotionally powerful story of two young New Yorkers who dive head first into a marriage fueled by optimism and the hope of finding true love. Through conventional storytelling the audience gets a unique look at their relationship over the last five years.
Opening day March 16
Runs two weeks only: March 16-26
For more information, you can call the box office 24 hours a day (402) 438-TADA (8232), email showinfo@tadaproductions.info or go to www.tadaproductions.info.