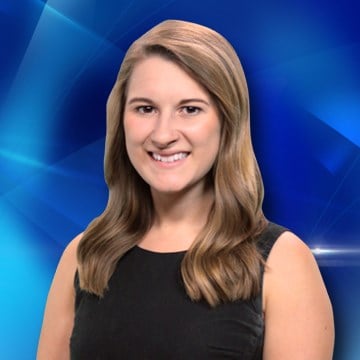 Bayley is from Waverly. NE. "I remember I was always writing stories, writing was always my favorite subject in school and as soon as I took my first journalism class as a sophomore in high school, I knew what I wanted to do with my life.", says Bayley. She went to Doane University where she graduated with a degree in journalism.
In college, Bayley focused almost exclusively on print journalism because writing was always her favorite part of the process. But then something happened. Bayley remembers, "When I was actually going through the process of job searching, I had no intentions of even looking into broadcast journalism. But then I realized what I really loved about reporting is getting to meet new people and learn new things every day, and tell people about what I saw! In this job, I get to do that each day, and develop performing, video and editing skills." Bayley adds, "Every day is an adventure here, you don't know what story you're going to cover, who you're going to meet or what your day will be like and most every day it's always better than you think it's going to be, because of the people in Lincoln and the people at Channel 8 (KLKN-TV)."
Bayley says she always said that if she was going to stay in Nebraska after college, she had better find a job in Lincoln, because she didn't want to be anywhere else in Nebraska. She's lived in Orlando, Florida and Washington D.C., and although she liked living in those places, she never felt quite as connected to the community as she does in Lincoln. She is still active in her college sorority, Omega Psi Theta. Outside of work, she likes to cook and do yoga.
bbischof@klkntv.com