News
Make a Wish Nebraska gives Seward their princess
Seward had a police escort, a parade and a horse–drawn carriage.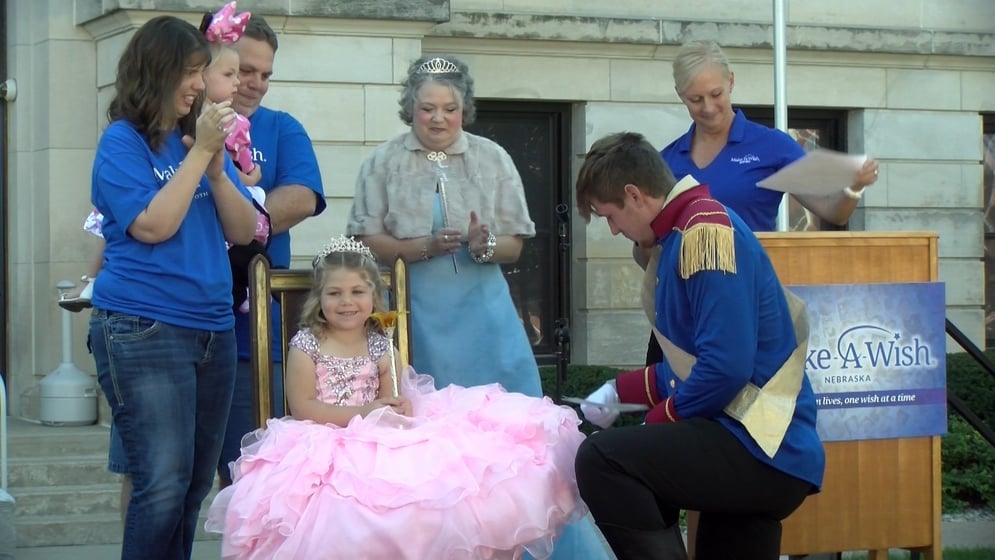 Seward had a police escort, a parade and a horse–drawn carriage.  All for a 5–year–old girl: Karis Crosmer.
Actually, Princess Karis--and she's not just a princess.  She's also a survivor; winning her battle against leukemia—a disease more than 363,000 Americans are living with--and one the American Cancer Society says will claim the lives of around 150 Nebraskans this year.

This fairy tale–themed event was made possible by Make a Wish Nebraska, who received Karis's wish file when her family moved here from Ohio.

"When we found out they were moving to the Seward community, that's kind of when the light bulb went off and thought 'this could be something special,'" said Brigette Young, president and CEO of Make a Wish Nebraska.

Young said they knew Karis's wish was to go to Disney World.  But one idea led to another and it snowballed from there: the tea party with Belle, the football players and the Prince Charming presenting her with tickets to Disney World.

"We've done some wish reveals, but nothing quite this big," Young said.  "This was something that we thought, 'you know, if we approach the Seward community, in a small town, can we make this bigger than anything we've ever done?'  And we did."

Karis's parents say they're overwhelmed by the town's support.  They remember the treatment she received for two and a half years.

"We have spent holidays in the hospital," Karis's father Joshua said.  "She was diagnosed on a Labor Day weekend.  Pretty much every Labor Day weekend since then except this last one was spent in the hospital...We spent a Christmas in the hospital.  It's difficult for the kids and the parents."

The Crosmers say Karis was a champ throughout her battle.
They're grateful to be embraced by a town they've only lived in since July.

"It was amazing," Karis's mother Lori said.  "I mean, we've only been residents of Seward for a few months.  So, seeing the community pull together for this beautiful 5 year old is just remarkable.  I'm just so thrilled.  They have made us truly feel like home."

A community pulling together for their very own princess.