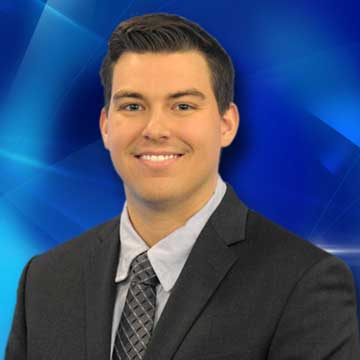 Zach calls Omaha his hometown. He also lived in Texas, Pennsylvania and Wisconsin. In his youth, the oldest of three siblings enjoyed writing and reading.
Zach became increasingly interested in news coverage through his journalism courses at UNL. Reporting and writing stories was his favorite part of his course work. "My reporting classes really lit a fire inside of me, building relationships with others and educating the public was something I really enjoyed", says Zach.
He became a member of the Channel 8 Eyewitness News in 2017. "I never wanted to sit at a desk all day…always felt that being in a fast paced work environment was best suited for me", commenting on why he chose reporting. He adds, "I enjoy informing others about intriguing local stories that they (viewers) wouldn't hear otherwise."
Zach is a huge sports fan, mainly football and basketball and enjoys fishing in his spare time. He admits that he splits his allegiance to college teams between Nebraska and Wisconsin, because he lived in Wisconsin before coming to Nebraska. He also enjoys reading the national headlines to stay informed and up to date on national news.
Email: zworthington@klkntv.com