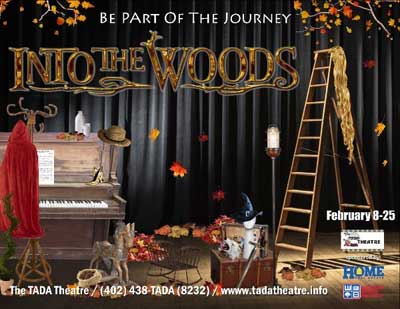 TADA's re-imagining of one of the greatest musicals ever written is both enchanting and touching. A rustic stage is covered with an array of objects. These items will become the means by which a gathering of performers will tell the tale of everyone's favorite storybook characters and bring them together for a timeless, yet relevant theatrical production about wishes, family and the choices they make. Celebrating its 30th anniversary and showcasing a stellar cast, Into The Woods is a musical not to be missed.
Into the Woods will be on the TADA stage Thursdays, Fridays, Saturdays and Sundays from February 8 - 25
For more information go to www.tadaproductions.info or call the TADA Box Office at (402) 438-8232.