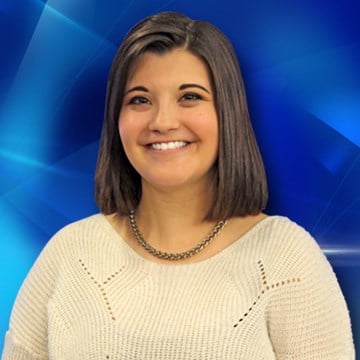 BriAna is from Emmetsburg, Iowa, a town of approximately 3800 people. She says that Lincoln is the biggest city in which she's lived. Growing up, she admits to have been a huge music geek. She was in choir, band, show choir and piano lessons.
BriAna attended Iowa State University, but was undecided about her course work until she shadowed a news anchor and fell in love with the bright lights of broadcasting. While at ISU, she interned for stations in Sioux City and Des Moines and served as the General Manager for ISUtv her senior year, where she won an Iowa Broadcast News Association Award for coverage of the 2016 Iowa Caucus. BriAna graduated from ISU with a degree in Journalism and Mass Communications, with minors in Communications Studies and Political Science.
"I love getting to know people and learning their stories", she says about her position as a reporter with Channel 8 Eyewitness News. "I then get to tell their story to viewers", she continues. She loves to meet new people and invites viewers if they see her out and about to say hi.
BriAna is a member of Sigma Kappa sorority and has done a lot of service work including volunteering for the Alzheimer's Association. She has seen "The Office" six times all the way through and says that her favorite piece of furniture is her bookcase. In her spare time, she reads and tries to find new and fun things to do. She also considers herself a connoisseur of "chicken strips". She says that she will share her top ten list if you ask.