News
UPDATE: Waverly walkout not about single issue, but discussing all perspectives
Just over 60 Waverly High School students walked out of class on Wednesday.
Wednesday, March 14th 2018, 10:57 AM CDT
Updated:
Thursday, March 22nd 2018, 2:31 PM CDT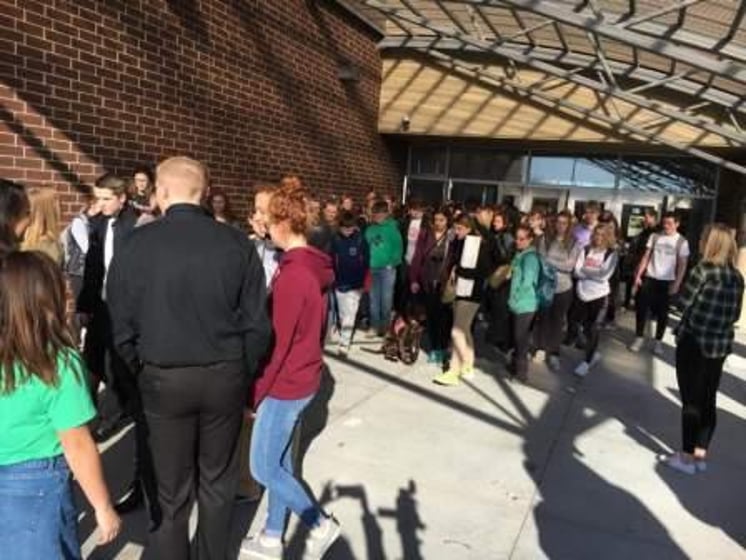 Posted By: Bayley Bischof Channel 8 Eyewitness News 
Exactly one month after 17 people died in a Parkland Florida high school shooting Waverly students walked out; grasped each other's hands and stood silent for 17 minutes.
They said it was in honor of all lives lost to gun violence, especially the victims of the Marjory Stoneman Douglas High School shooting.
The student behind the movement, senior Sydnee Wonznik said she brought this event to Waverly so no students have to live in fear.
"I have a seven and four year old sister and I remember last year when my sister came home from school and she told us she had to learn what to do with a bad guy came to school," Woznik said. "Really hit home for me because when I was six I didn't have to worry about this."
An outsider may have thought Waverly's walkout looked like many others across the country.
But students said the message here was different.
"There's other things we can do than just walking out, we can focus on other things than just violence, there's more to tragedy than just guns," senior Ian Wilhusen said.
So the school did more than just walk out.
Principal Ryan Ricenbaw and Woznik wanted to give all students with all perspectives the chance to share their opinions at a discussion after the walkout.  
"It's not about an issue itself," Ricenbaw said. "It's about allowing kids to come together to talk about the issues they think are important."
With his guidance, even students who aren't on the side of more gun control were able to come together and be a part of this movement.
"I think it's great we could come together in our little assembly and share views in a civil manner," junior Colter Teitjen said.
One student said discussions like these are why he loves Waverly High School, and could be part of the solution to safer schools.
"If your school respects one another enough to hear each other's beliefs there's very little chance anything would happen," senior Tristan Graff said.
Fairbury and Norris high schools also had walkouts Wednesday, but for Waverly the discussion doesn't end here.
Ricenbaw said he is going to keep encouraging students to have civil discussions like this one, but they'll most likely take place before or after school, not during school hours like the walkout.
By: Channel 8 Eyewitness Newsroom
8@klkntv.com
Just over 60 Waverly High School students walked out of class on Wednesday. 
The students said their main message wasn't about gun control or school security but they wanted to come together to honor those who have been killed in school shootings. 
They are having discussions about different perspectives and solutions to school violence, gun-control, school security and anti-bullying. 
The principal said he wanted to support the students desire to walk out but was able to turn it into an educational moment. 
We'll have more on the Channel 8 Eyewitness News at 5.