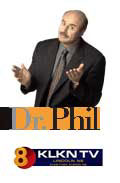 Watch Dr. Phil weekdays at 4:00pm onChannel 8 KLKN-TV.
A Show Is Born

After four years of featuring Dr. Phil on her show as a life strategy expert, Oprah told Dr. Phil that it was time.

"'You need to do your own show,'" she said. "'I just really think it's time to do it.'"

But Dr. Phil had two questions: Did he have enough to say and keep it fresh five days a week? And did he have something to offer that wasn't anywhere else on TV?

The answers were yes, and the result is Dr. Phil, which he and Oprah created together. On his new show, he'll be addressing the traditional issues he dealt with as a regular guest on Oprah — relationships, human functioning, marriage, family — and he'll also get real about "silent epidemics" affecting adults and teens, legal issues, behavioral medicine and stories straight from the headlines.

"This isn't a talk show," says the 52-year-old. "This is a stop-talking-and-start-doing show. For one hour every day — two including Oprah — I want you to know that there's a place you can go for down-to-earth quality TV."

Dr. Phil and Oprah first met in 1996 when she was being sued by Texas cattlemen for comments she made on her show about the "Mad Cow" disease. Oprah needed some straight-talking counsel, and that's exactly what Dr. Phil, a psychologist and litigation consultant, gave her.

"'I'll tell you one thing young lady, these ole' boys are going to hand you your ass on a platter if you don't pull yourself together,'" she remembers Dr. Phil telling her. "Nobody had ever been that frank with me before."

Oprah won the case, hired Dr. Phil to be a regular guest on her show, and continues to be involved as he starts flying solo.

"I'm watching like a mother watching her child," says Oprah, who flew out from Chicago to Dr. Phil's set at Paramount Pictures in Hollywood. "I was so pleased."

Dr. Phil believes in what he's doing, and takes the privilege and responsibility of having his own show very seriously. "This is a powerful platform and a powerful medium, and we're putting it to its best use," he says. "You may not like what I've got to say, but you can be sure you'll know where I stand when I'm through."

He doesn't claim to be offering "eight-minute cures," but he does hope his guests and viewers get a wake-up call.

"I don't ask that you substitute my judgment for your own," he adds. "You can make up your own mind. But hopefully you'll weigh what I say and make an informed decision."