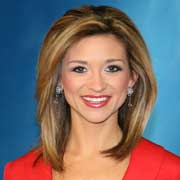 Brittany Jeffers grew up in Ogallala, Nebraska. "I'm a true blue, or red, Nebraska girl", she proudly admits. As a youngster, she was always entertaining the neighborhood with her backyard productions. She and her friends would sing, dance and put on plays for just about anyone who would watch.
Brittany has a degree in Broadcast Journalism from the University of Nebraska-Lincoln. At UNL, Brittany worked for Huskervision as part of the production staff that shot women's basketball and gymnastics. She also interned for Channel 8 KLKN-TV and KNOP-TV in North Platte. Now as a reporter for the Channel 8 Eyewitness News, she enjoys the fast pace, the every changing environment, challenges, change and meeting new people that is a reporter. "I love that everyday and every story is worthwhile...because all of the information is vital to the citizens", she adds.
Brittany has been involved with dance; tap, jazz and ballet for 17 years and has been a participant in the Miss Nebraska Scholarship Pageant. Brittany was crowned Miss Nebraska in June of 2009 and she had a top-ten finish in the Miss America pageant. In her spare time she considers spending time with her family her top priority. She also likes movies and the outdoors.
"The reporting job is similar in many ways to serving as Miss Nebraska. We speak to various audiences of all different ages and backgrounds. Whether it's reporting or serving as Miss Nebraska, you're spreading pertinent information," according to Jeffers. You can see Brittany weekday mornings on Channel 8 Eyewitness News This Morning and Channel 8 Eyewitness News Midday.