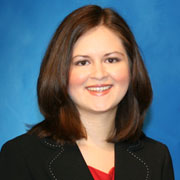 Marcy grew up in Wheaton, Illinois, a western suburb of Chicago. As part of a middle school assignment Marcy realized her love for journalism, when the assignment called for her to interview a classmate and then write an essay. "I loved it because I learned so much about this person I never would have known". Thus, began her fascination with the stories of ordinary people and a career in writing.
Marcy joined the likes of consumer reporter David Horowitz, former ABC anchor Steve Bell, and director/producer Garry Marshall, to name a few, to have graduated from the prestigious Medill School of Journalism at Northwestern University in Evanston, IL. Before joining Channel 8 Eyewitness News, she interned at WBBM Newsradio 780, with the consumer unit at WMAQ Chicago, and reported and produced at WBOY,TV in Clarksburg, WV.
In her spare time, Marcy likes to read, Jane Austen and Henry James are her favorite. She goes to the gym and likes to shop. She claims to make a delicious caramel macchiato and a pretty good mint mocha....a skill she learned working in a coffee shop while in college. She says that she's a kid at heart, because she still collects anything that's Hello Kitty.