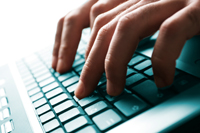 I have received excellent care from Women's Clinic for many years. They are very caring and they take time to listen to all of your concerns. Everyone makes you feel welcome.
- Sharon, age 61
My dad was a General Practitioner in Erie, Pennsylvania - began practice in the 30's during the great depression, WWII, and on and on "on call" (the office was attached to our home) 24/7, 365 days always THERE for his patients. He ministered to the whole person, body and soul! I found that kind of care in a different area, at a different place - The Women's Clinic of Lincoln. You practice medicine the way my dad did; each person is special, and we work as a team. A partnership of caring and respect; to get things on track and move forward. When I first came in (many years ago) my spirit was breaking down and the body was going with it. But we got back in the running and took off and we've been flying high ever since. With your personal, caring touch, team effort, and open lines of communication, we'll make it! Here's to you Dr. Swanson, Fran, Anita, The bone gal with the dancing skeletons over the DEXA machine, receptionists etc. Raise your glasses, "Clink," I'll be 70 in January. What a great journey May THE GREATEST physician truly, richly bless you all.
- Nancy, age 69
My 60th birthday present to me was to start taking care of "me" again, as I was two years behind in what had been a religious practice. I always assumed that heart disease, obesity and osteoporosis would be my own worst enemy/fate. There were "no real risk factors for cancer" for me to be on the alert for breast cancer. There was "no palpable mass."
When the call came to repeat my mammogram I thought little of it. Years ago, I had a repeat mammogram. But when shown the area of concern (in the clinic) it was obvious that there was a "problem". From the beginning the Women's Clinic staff has been positive, supportive and "always there". I am an RN by profession but I shall always be appreciative to be treated and cared for as a "woman and as a patient".
Pam identified options for my specific (type) diagnosis of "breast cancer". We made decisions together to "individualize my plan of care".
The outcome now one year later, "I am cancer free for one year" and how grateful I am to say, "I am a cancer survivor". My message now and question to all women is "...and when was your last mammogram?"
- Fran, June 2005
When I moved back to Lincoln 11 years ago, I felt so fortunate to have selected the Women's Clinic of Lincoln for my healthcare needs. The physicians, Nurse practitioners and nurses are highly professional and treat you as if you are a family member. Their comprehensive approach to healthcare is helping me make a smooth transition from motherhood to menopause.
- Beth, age 43
Dear Women's Clinic staff,
Thanks for taking such good care of us. My daughter and I have used so many of your services and mammograms and wellness checks, mental health services (so HELPFUL) - emergency care after a tragedy. I always felt surrounded by caring people.

Many thanks -
Susan