107 year old church gets demolished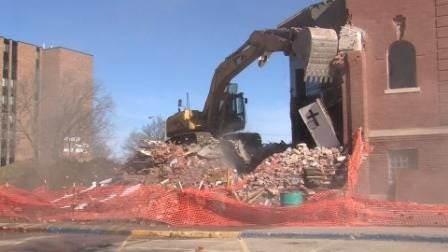 posted by: Laurann Robinson
A historical part of Lincoln gets torn down today.
Saint Patrick Catholic Church in northeast Lincoln held it's last service on February 1st, and saw its demolition this morning. A crowd of over 100 people watched the building from 1908 fall to the ground.
Neighbors, parishioners, and even kids from the Saint Patrick Catholic School watched in amazement as the two–story building crumbled like toy blocks.
"There's a big hole in the church."
"I was surprised when it tore down the very top. That was awesome."
"It looked like cardboard," said a group of first graders.
While some of the older kids, eighth graders at the school, had mixed feelings about losing such a big part of their lives.
"Exciting and sad. We've been here our whole lives.
"It's also a relief because we really needed a new church badly."
"I mean, there's a lot of memories in there. We've had girl scouts. People got baptized and confirmed in there. It's just sad and exciting."
But while the church where so many memories were made sees its last day, excitement continues to build over the new church, with updated features and much more space.
"In some ways it's very sad. But then again, we've needed a new church for a long time. The structure is just old and tired," said Diane Neujahr, a teacher at Saint Patrick.
Father Troy Schweiger said, "it's been a tough transition, in so far as, people are so excited for the new church, they can't wait. And so that's the hard part, because we had to move out of the old church a couple months ago, and we're not in the new church yet. So everybody's in–between. So it's a lot of excitement to get in the new church, yet, sadness to be out of the old church."
The dedication ceremony for the new church will be August 15th. So until then, services are temporarily held in the school's gym.
Father Troy says many items from the old church will be echoed in the new one, but the item holding the most anticipation, a time capsule from 1908 that was inside the church.
It is currently being kept in a safe location and will be opened at the new church's dedication, again, on august 15th