12 year old arrested in connection to Omaha shooting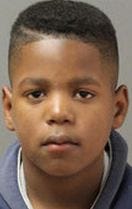 By: KLKN Newsroom
8@klkntv.com
Omaha police have announced that U.S. Marshals have arrested 12-year old Jarrell Milton in connection to the June shooting of Jamymell Ray.
Officials say they arrested Milton in Minneapolis, and will extradict him to Omaha.
Milton is the third suspect in the case. Police arrested a 15-year old and a 17-year old in connection to the shooting earlier this week.
For more updates, click the link below:
http://www.scrippsmedia.com/kmtv/news/UPDATE-12-year-old-murder-suspect-captured-312373411.html