UPDATE: Rollover in downtown Lincoln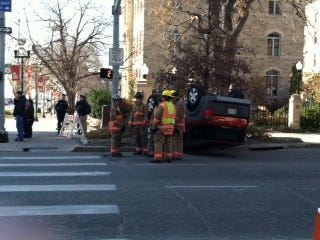 Police and firefighters were called to a rollover accident Sunday in the heart of downtown Lincoln.
It happened at the intersection of 10th and O Streets. Three cars were involved in the accident that left one of them on it's roof.
A woman who lives nearby says she was looking out her window, saw one of the cars turn and then heard a loud bang.
"That is a dangerous corner. I have seen three accidents within this last year," Lina Driscoll said.
Police are investigating the cause of the accident. All three drivers were able to walk away from the accident with minor injuries.
Emergency crews are responding to a 3-vehicle crash at 10th and O Streets. It happened around 2:45 p.m. One of the vehicles rolled. All of the drivers are out and no one is seriously hurt.
Police have blocked off that intersection.
Check back from more information.