2010 legislative session wraps up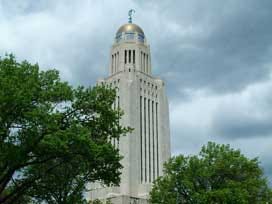 After 60 days in session and landmark bills signed into law, the legislative session ended Wednesday.
The process really started off with a 12 day special session late last year when senators had to strip more than $300 million from the budget.
The 2010 legislative session started off with one very specific goal. Senator Tony Fulton, from Lincoln, says, "the main thing we accomplished this session was to make sure our budget remains balanced." He says there were some contentious debate because the stakes are so high.
Other bills that became law include the the wind energy bill, a texting and driving ban, and two abortion-related laws that are firsts of their kind.
One of the abortion bills bans abortions after 20 weeks of pregnancy and is based on the claim the fetus can feel pain. The other will require women to get pre–abortion screening to see if they're at risk for mental or physical problems post–procedure.
Senator Danielle Conrad voted against the two bills and says she wished the bills focused more on education and prevention. "Unfortunately, neither of those bills addresses any of those issues or improve women or children's health. My preference would be that we focus on those common ground, common sense solutions instead of putting politics between the doctor and patient relationship."
With this session just wrapping up, next year is already on our senators minds. Early predictions are showing the state will have a $680 million shortfall.
Something that escaped earlier cuts is school funding and many are worried that could get hit this next time around. Governor Dave Heineman says. "we're going to have a choice next year: state aid to education or medicaid. We're going to have to make a determination. They both can't grow at the rate they're currently projecting. I believe education funding should be the priority for this state."
The governor says they will utilize the cash reserve and senators will still work through the summer to figure out the problem.
Many of the senators we talked to on Wednesday say they're optimistic that a special session won't be needed.