2013 session ends with accomplishments, much left to do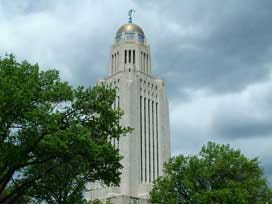 By: Bill Schammert
bschammert@klkntv.com
The 90 days of the 2013 Nebraska Legislative Session are over. Lawmakers have sifted through 661 bills, sending more than 200 to the Governor's desk.
Ask any state senator, and you're sure to find victories and defeats, but from passing a nearly $8 billion budget, to an overhaul of the juvenile justice system, major things did get accomplished inside the State Capitol.
"Most importantly, we balanced the budget without raising taxes," Governor Dave Heineman told senators on Wednesday.
Speaker of the Legislature and York Sen. Greg Adams was also pleased with the budget.
"What we did for education, and early childhood, it's important, it represents a new focus," Sen. Adams said.
Others might call it the year of the filibuster. A possible repeal of the death penalty and Medicaid expansion failed to even come up for a vote due to a filibuster, despite both seeming to have had majority approval.
"No matter whether you supported Medicaid, or not, the body and the citizens of this state deserved a vote," Lincoln Sen. Bill Avery said.
Still, Sen. Avery sees Lincoln much differently than he sees Washington. This year, he says, he noticed lawmakers becoming more moderate, more willing to compromise on both sides of the aisle.
Speaker Adams said, of the 104 priority bills, 71 were signed into law; a success rate on par with recent years.
Still, he says, Medicaid Expansion, capital punishment, and tax reform will again be the biggest issues heading into 2014.