2015, A hopeful year for Husker fans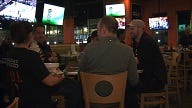 By: Jenn Hatcher
jhatcher@klkntv.com
Instead of fretting about Friday's
loss to Baylor, many Husker fans are already looking to the future.
This team was picked to finish last
in the BIG10 and with only two seniors graduating, fans, say the future is
bright
"Going into next year is going
to be a lot better atmosphere…
hopefully it will be like the Wisconsin game, every game," says Brian
Smith, Husker Fan.
Greg Howe adds, "Another
tournament bid would be amazing and maybe we can finally get that first
tournament win."
"I've been to a few games in
the new arena and it's definitely, from the environments I've seen it's one of
the toughest places to play and I'm very excited about what the future holds,
it's a bright time at Nebraska,"
says Ryan Shrum, Husker fan.
The Huskers spent no time in San Antonio after the
loss.
Their plane was expected to land in
Lincoln at
9:30p.m. Friday.