4 cars involved in accident near 56th & Randolph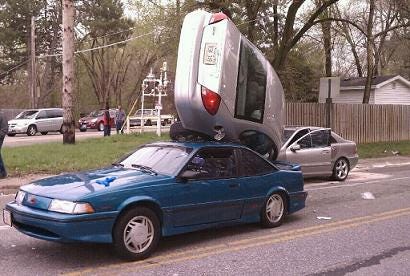 A Lincoln man was cited in the 56th & Cotner pile-up Tuesday afternoon where one car landed on top of another.
It happened around 4:15 p.m. Tuesday. Witnesses told police the driver of the Ford Taurus was driving south on Cotner and didn't slow down while crossing the intersection and veered into the northbound lane of Cotner hitting 2 cars. Police say his car flipped on its side and landed on top of another.
When emergency crews arrived police say they found the Taurus driver, 22-year-old Christopher Grauf, trying to climb out of his car. Also, some good samaritans were holding the car in place to keep it from tipping over.
Grauf and another patient was taken to the hospital with non-life threatening injuries. Police say Grauf was ticketed for negligent driving.